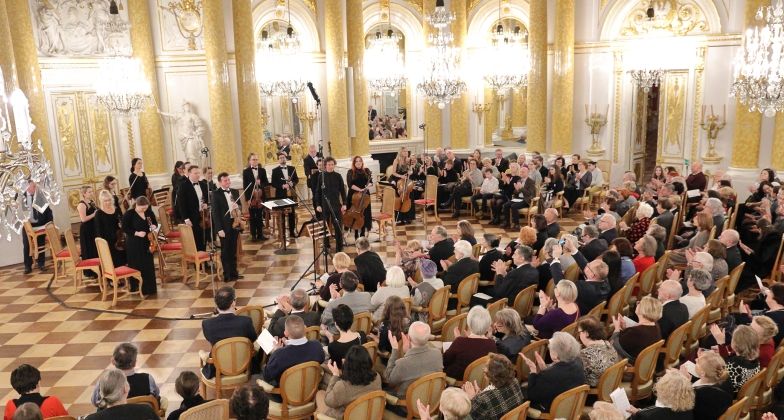 Witold Lutosławski Chamber Philharmonic in Łomża
The beginnings of the Witold Lutosławski Chamber Philharmonic in Łomża go back to the establishment in 1977 of the Łomża Chamber Orchestra. Since then the ensemble has given almost two thousand concerts in Poland and abroad and received numerous awards for its artistic achievements and its contribution to the development of musical culture among others Silver Gloria Artis Medal, "Podlaska Marka Roku 2018" (Podlasie Brand of the Year 2018) and "Łomżyński Anioł Biznesu 2019" (Łomża Business Angel) in the category Ambassador of Łomża.
The ochestra's successive directors were Mieczysław Szymański, Henryk Szwedo and Tadeusz Chachaj. The last director was given the title of Honorary Principal Conductor by his successor, Jan Miłosz Zarzycki, who assumed the post of Managing and Artistic Director in 2004.
The orchestra has performed with prominent conductors: Tomasz Bugaj, Mirosław Jacek Błaszczyk, Stefan Fraas, Pierangelo Gelmini, Giancarlo De
Lorenzo, Jerzy Maksymiuk, Marek Pijarowski, Peder Rensvik, Jerzy Salwarowski, Józef Wiłkomirski, and famous soloists, including Eugen Indjic, Krzysztof Jakowicz, Konstanty Andrzej Kulka, Wiesław Ochman, Grażyna Brodzińska, Piotr Paleczny.
Orchestra has taken part in numerous prestigious festivals such as the Kristiansund Kirke Kunst Kulturfestival (Norway), Klaipeda Music Spring (Lithuania), 'Užutrakio Vakarai' Festival in Troki (Lithuania), the 'Songs from the River Salcia' Festival in Solechniki (Lithuania), Festival "Music at the Baliński Palace in Jaszuny" (Lithuania), International Organ and Chamber Music Festival in Giżycko, the Moniuszko Festival of the Podlasie Region and the Operetta and Opera Festival in Mazovia. The ensemble also performed at the 1st Warsaw Tournament of Tenors, 6th International Competition of Piano Duos in Białystok, the National Philharmonic in Warsaw and the Royal Concerts at the Royal Castle in Wilanów. It has also done a lot to consolidate Polish cultural
traditions giving regular concerts in Lithuania and Belarus (Grodno). Foreign tours also took it to France (2009) and Norway (2012).
The orchestra's discography includes 17 CDs, one of which won the Fryderyk Award 2019 of the Polish Recording Industry, seven of which won a nomination to the Fryderyk Award and three to International Classical Music Awards. They also recorded the DVD Vistula Landscapes.
Witold Lutosławski Chamber Philharmonic in Łomża is the organizer of the International Chamber Music Festival 'Sacrum et Musica' which was founded in 2005 as well as a series of concerts entitled 'Musical evenings at Lutosławski's'.
Orchestra of the Witold Lutosławski Chamber Philharmonic in Łomża
Jan Miłosz Zarzycki – director and conductor
1st Violins
Izabela Bławat-Leofreddi – concertmaster
Piotr Sawicki – vice concertmaster
Agnieszka Chłopeniuk
Katarzyna Karpiuk
2nd Violins
Filip Szymaniak
Katarzyna Janas-Dziewa
Katarzyna Prusiel
Viola
Adrian Stanciu
Cellos
Iga Marta Ludkiewicz
Can Kehri
Double Bass
Bogdan Szczepański
Flute
Jacek Krupa
Oboe
Magdalena Goc
Inspector
Mateusz Goc
Librarian
Jacek Krupa